Some people feel uncomfortable with the idea of purchasing a refurbished laptop or desktop computer; however there are numerous advantages of
refurbished computers
.
If you are considering purchasing a reconditioned or rebuilt computer, but you're unsure about the quality of a refurbished desktop computer, here's a list of 3 myths about refurbished PCs, with explanations of why they're wrong.
Shining The Light On Myths About Refurb Computers
There are numerous myths regarding computers which have been refurbished, for example:
'computer refurbs are slow', 'there's no difference between used and refurbished', and 'you can't get a warranty for a remodelled computer'.
However, these aren't all necessarily true, and we'll explain why below.
Are Refurbs Slow?
It goes without saying that as new hardware is released; computers relying on older hardware will likely be slower than computers which utilise new computer hardware. However, this does not mean that all older computers are necessarily inferior to newer computers - when refurbished by a professional, a refurbished PC could function as well as if not better than a new out of the box PC with the same specifications.
Also, it is important to remember that, unless you are searching for a computer for a task that requires high performance components such as gaming, music production or other complex tasks, it's unlikely that you will need state-of-the-art equipment. This means that you could save money by choosing to purchase a computer that has been refurbished, instead of a brand new computer.
Additionally, it is worth noting that if you purchase a restored computer can still be upgraded. So if you cannot find a computer with the appropriate RAM or a sizable enough hard drive, thanks to the price savings from
refurbished computers
, you might still save money by purchasing a refurb and upgrading it, opposed to buying a brand new computer.
Is There A Difference Between Used And Refurbished?
Some may be concerned about the difference between a refurbished and a used computer, instead choosing to purchase a new out of the box computer. However, there is a difference between new, used, and refurbished.
With regards to a used computer, a used computer is a computer which has a previous owner. On the other hand, a refurbished laptop of desktop computer which has been refurbished by a reputable business
will have been tested and verified to function correctly
. Providing you with peace of mind in the knowledge that if there were any faults present from the desktop's or laptop's previous owner, you can be fairly confident that those faults no longer exist after being refurbished.
Also, if you choose to purchase your computer refurb from PC Renewed, you can enjoy additional peace of mind in the knowledge that we are a genuine Microsoft third party installer and an Amazon Certified Refurbisher. We also welcome anyone to visit us in Coventry, West Midlands to inspect our products before making a purchase –
contact details can be found at the bottom of this page
.
Do Rebuilt Computers Include A Warranty?
It is highly advised that you only purchase refurbished or rebuilt computers from reputable and trustworthy businesses, such as PC Renewed. All products which are available for purchase on our online store are
One Year Warranty
. This includes computers which run many popular Windows operating systems such as Windows XP, Windows 7, and the latest Windows 7, Windows 10.
Also, if you choose to purchase a computer from our online store, you can enjoy further peace of mind thanks to our
30 day no quibble returns policy
.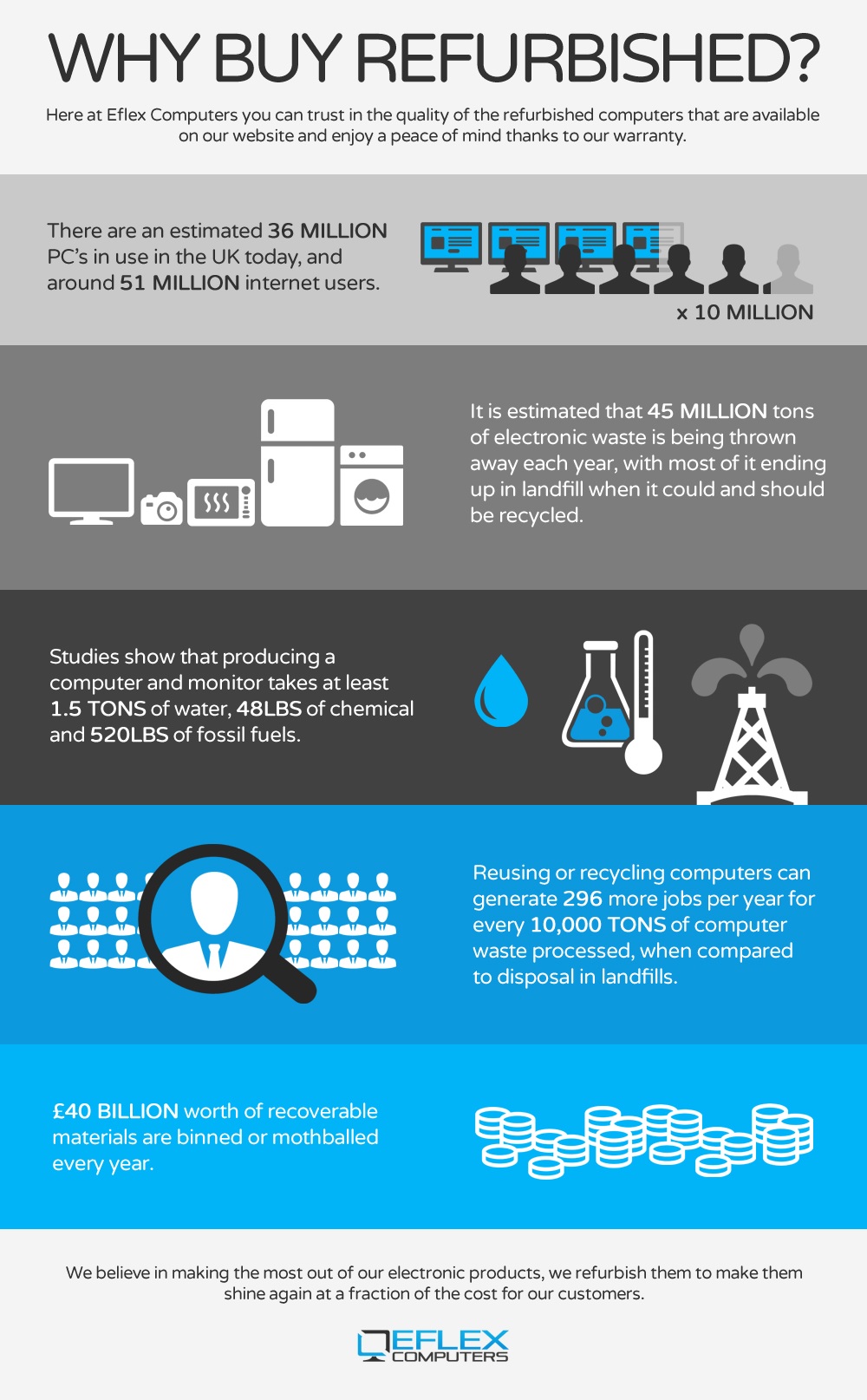 Are You Confused About Computer Specifications? Our Team Can Help
With terms such as central processing unit, chipset, random-access memory, read-only memory, video cards, and buses; we understand that computer components and hardware can be confusing for some people.
However, you don't have to be a computer expert to buy a computer online. Our friendly team of experts are available to assist you with your purchase. Our experts will be happy to help you choose a computer which is equipped the required specifications for your needs. So if you're searching for a computer for business, for leisure, or for your child to complete homework tasks; the PC Renewed online store has a wide variety of refurbished PCs and laptops to choose from, including many popular and well known brands such as Apple, Lenovo, Hewlett Packard, and Dell.

Would You Like More Information Regarding Refurbished Laptops And Desktops? Visit Our Blog
If you would like more information regarding the refurbished products that are available on our online store, please visit our blog. It's filled with lots of information regarding restored computers and laptops. Additionally, you can also read information about
choosing a laptop or a desktop
computer and the advantages and disadvantages of both types of computer.
Affordable Laptops And Desktops From PC Renewed. To Make An Enquiry, Get In Touch With Our Team Today
If you are searching for an affordable laptop or desktop, a great way to save money is to choose to purchase a refurbished product instead of a new one.
The PC Renewed online store has a wide range of refurbished computer products available for purchase, including
Grade A Certified Refurbished laptops and desktops
, and also computers from numerous well known brands.
However, if you have any questions regarding any of the refurbished products that are available on our online store, or if you would like assistance with your purchase, please do not hesitate to get in touch with our team. The friendly and dedicated staff at PC Renewed will be happy to assist you with your enquiry.
If you would like to talk to a member of our team, please call
02476 422328
. However, those who would prefer to contact our team using the internet can do so by using one of the methods below.
Contact Us Online.
You can email our team at, sales@pcrenewed.co.uk
You can follow us on Twitter @pcrenewed.
You can like our Facebook Page, @pcrenewed
Or use the quick call back feature on the right hand side of your browser.