Laptop Vinyl Covering
TO PURCHASE OR REQUEST A QUOTE ON OUR LAPTOP VINYL COVER STICKERS, FEEL FREE TO GET IN TOUCH.
CHECK OUT OUR VINYL COVERING VIDEOS!
We like to create in-depth videos that give our customers a proper insight into what we do. In these videos we give you a complete walkthrough of our vinyl covering cutting and installation process. Hope you enjoy!
OUR VINYL COVERING PROCESS
We begin the vinyl covering process by creating a custom design. To do this, we scan the laptop lid/palm rest and put it into the software. We then create an outline around the laptop lid, palm rest and logos which allows the printer to accurately cut out the covers. Once the design has been completed, it then gets imported into the printing software ready to cut. Once the appropriate vinyl has been cut we then separate each individual cover. After the covers have been individually cut, we then prepare the laptop for covering. The surface gets a detailed clean with all dirt and sticky residue completely removed which allows the finish to be as smooth as possible. We then accurately apply the vinyl cover, using transfer paper if necessary and removing all air bubbles that occur during installation. Once the vinyl cover is on, it gives the laptop a brand-new look and protects the lid/palm rest from further scratches, marks etc.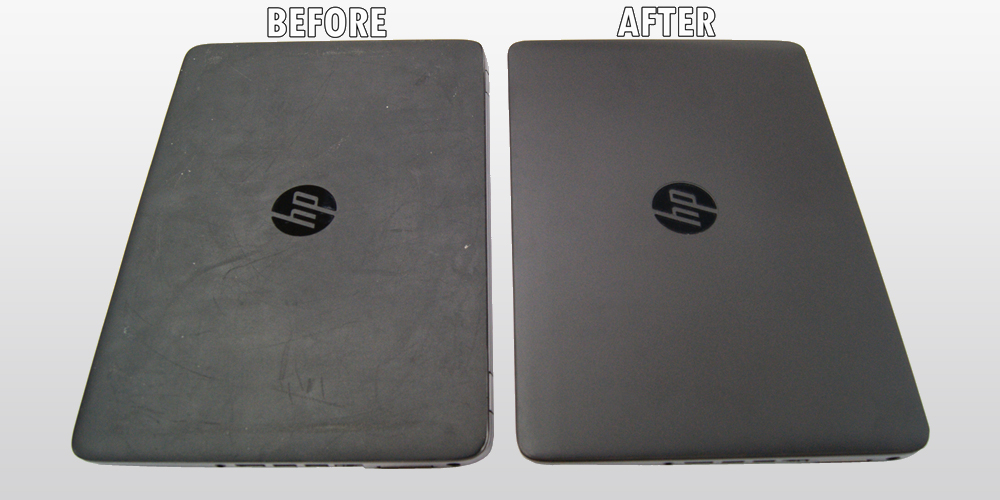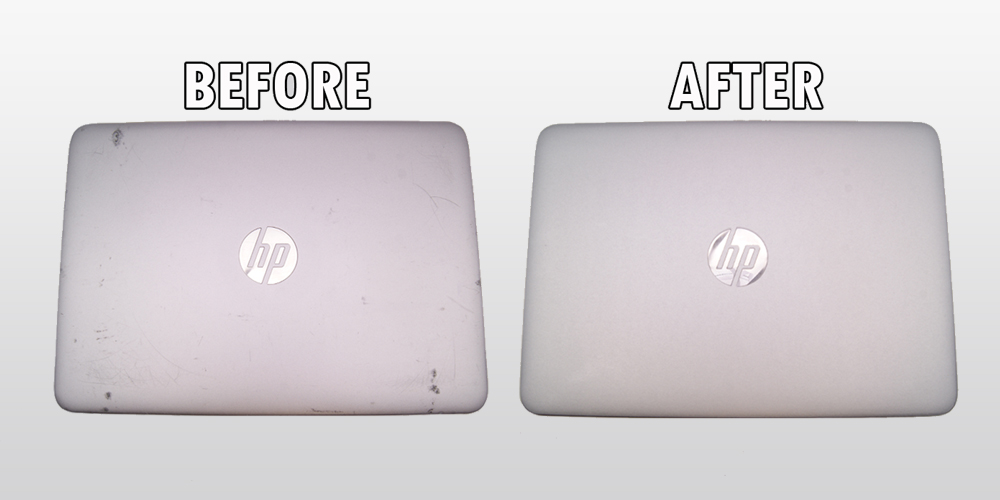 WHAT CAN WE COVER?
We have a team of professional technicians with many years of vinyl covering experience. The vinyl that we use is extremely high quality and colour-matched to the original factory colour. Not only does our covers make the laptop look like new, but it is also installed with the intent to be as discreet as possible, so you wouldn't even know that a cover was installed! With our technology and experience, we can create custom vinyl lid and palm rest covers for almost any laptop make and model.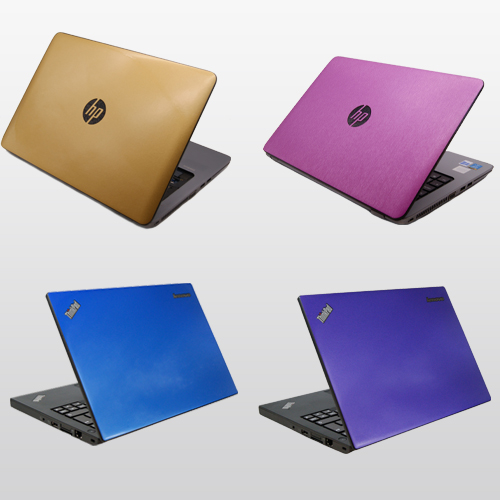 We also have a range of coloured vinyl lid covers available. These covers can make a great addition to your laptop lid and are especially good for the kids laptops. These covers offer a metallic effect finish and have the same durability as our original, colour-matched covers.
ADVANTAGES OF OUR VINYL COVERING SERVICE
Our Vinyl Covering Service can meet the desired needs of our customers at a very cost effective price. You can make your laptop look like new again without having to pay the price for brand-new products. Coming to us gives you the freedom to choose ANY vinyl lid cover design. So whether you want a colour-matched, metallic or completely custom lid cover, we've got you covered and are happy to help.
A REMINDER OF WHAT OUR VINYL COVERING SERVICE OFFERS
Cost effective way to make you laptop look like new.
High Quality 3M Vinyl.
Colour-matched to original factory colour for a discreet finish.
Metallic effect colours available (Blue, Purple, Pink, Gold)
Can create completely custom designs of your choice on request.
Protects laptop lid and palm rests from further marks/scratches.
Can create vinyl covers for ANY laptop make and model.
For anymore information on our Laptop Vinyl Covering Service, feel free to get in touch:
E: sales@pcrenewed.co.uk
T: 02476 460069